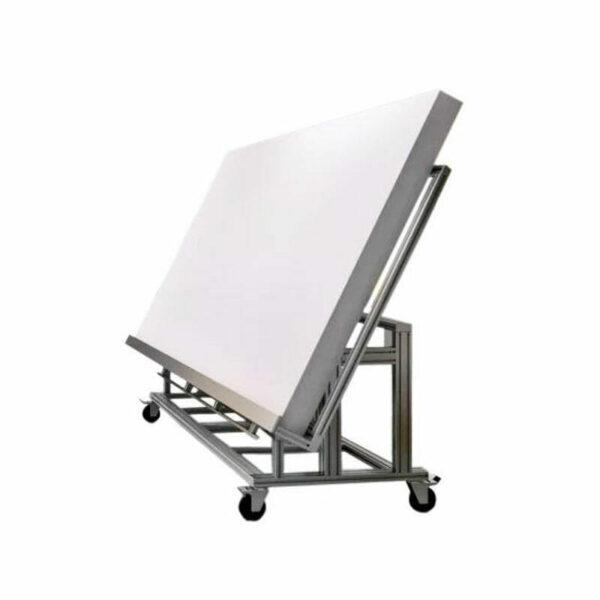 Capacity:
Maximum Weight: 1000 lbs
Maximum Lift Height: 42"
The All-A-Board® Lifter moves rigid substrates through narrow aisles, doors and between machinery. Feed boards into printers, use as a mobile work bench to meet changing workflow and space requirements. Solidly constructed with these ergonomic design features: Body frame is constructed from clear anodized, t-slotted extruded aluminum fastened with metric hardware and extrusion specific fasteners Four heavy duty 5″ diameter swivel locking casters can transport up to 1000 lbs of 4' x 10' media Handle along the back of the frame allows operators to maneuver and rotate table top from vertical to flat position Spring loaded latch mechanism locks table top in flat position Pull handle allows operator to easily release latch mechanism and return table to vertical position Durable high-pressure laminate surface, fastened to Lifter frame with counter-sunk (Flat Head Cap Screw) hardware that prevents scratching and is impact resistant What customers are saying "
The All-a-Board® Lifter is like having an extra person on the job. What a tremendous help this is- especially when our skilled staff is limited and we really need an extra hand. Since we work in such a confined space, the ability to flip the All-a-Board® Lifter vertically to move it through aisles to the printer or finishing department, then rotate it flat, makes lifting so much easier. The All-a-Board® Lifter also eliminates the strain of lifting sheets from the pallet. It doubles as a transport device as well as a worktable. It's super light and moves like a dream. We need to order more!
" -Eric Berger, President, Color Reflections Philadelphia, PA